Get to Our Pitch

For MapQuesters and GPSers:
Although there is no direct access to the TCU Rugby Pitch from West Berry street, the best address to plug into your favorite driving directions program or GPS device is 3400 W. Berry St., Fort Worth, TX, 76129. This will lead you to the curve in Berry Street; look directly to your right when you hit this curve and you can't miss the pitch and posts - they're just over the low hedge and fence.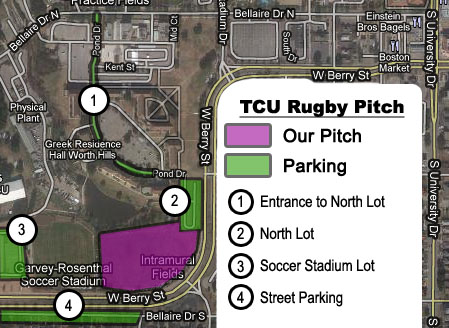 A Note about Football Games:
On TCU Football game day, parking is tricky at best. Even though our games take place (normally) five hours before TCU Football kickoff, Event Staff have usually already begun to cordon off parking lots before we even begin warm-ups.
For the Visiting Team: Your best bet for parking is to head to the North Lot (Lot 2). There will usually be Event Staff waiting to stop you at the entrance to Pond Drive (1); simply tell them that you are the visiting team for the TCU Rugby Game and they should let you through. If not, call our Match Secretary.
For our Fans: Parking will be an issue. If you are not playing in the match, the Event Staff are unlikely to allow you to enter the North Lot or the Soccer Stadium Lot. Your best bet for parking is to find a spot along Bellair Street South (#4 on the map above), which runs parallel to Berry St. West.